2022 proved another stellar year for heavy metal releases. This list features 10 of my favorite metal albums for the year.
Rake-Off- Observing Madness Italian thrash/crossover act Rake-Off pull no punches on its debut album, Observing Madness. This speed laden album goes all out in under 25 minutes with tracks like "Evil From The Depths" and "Trapped."
2. Crowbar- Zero And Below The Louisiana Lords of Doom return after a six year hiatus with its twelfth record, Zero And Below. Kirk Windstein's hoarse vocals and signature sludgy riffs create a bleak sonic landscape on tracks like "Her Evil Is Sacred" and "Chemical Godz." Tune low play slow.
3. Rhythm of Fear- Fatal Horizons Jacksonville, FL thrash metal quartet Rhythm of Fear prove that American thrash is alive and relevant on its sophomore release. The band's technical proficiency on tracks like "Obsolescence," "Fatal Horizon" and "Insidious System" reaffirm why Rhythm of Fear are one of the premiere metal bands today.
4. Jungle Rot- A Call To Arms Dave Matrise and crew stay true to the underground and never disappoint. A Call To Arms seamlessly melds death, groove and thrash that will satiate any metalhead's appetite. The title track, "Vengeance and Bloodlust" and "Death Squad" showcase a legendary band that does not get enough respect.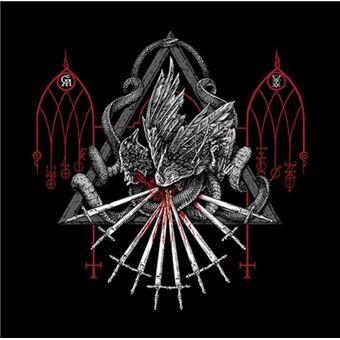 5. Goatwhore- Angels Hung From the Arches of Heaven No one does blackened thrash/death metal like Goatwhore. This vicious release features all we love about Goatwhore. However, the final track, "And I Was Delivered From The Wound Of Perdition," is one of the band's greatest songs.
6. Kampfar- Til Klovers Takt Black metal has been parodied, mimicked and saturated for roughly a decade. Yet, stalwart acts like Kampfar remind us what made this black metal so chilling 30 years ago. Til Klovers Takt is black metal done right as I wrote here.
7. Whitespade-Whitespade Honestly, Motorhead cannot be duplicated. However, Whitespade, the alter ego of Midnight does a great job honoring the band. Tracks like "Fast Train To Nowhere" and "The Strangler" would fit fine on Bomber, Overkill or Iron Fist.
8. Megadeth- The Sick, The Dying…And The Dead! The band's best album in years. Dave Mustaine and crew are technically sound as ever, while Mustaine's cynical commentary on society has not lost its bite.
9. Static Abyss-Labyrinth of Veins Autopsy frontman Chris Reifert and bandmate Greg Wilkinson go on out on their side project, Static Abyss. The hopeless doomy riffs on "Feasting On Eyes" and "Nothing Left To Rot" open a vortex to Hell.
10. Behemoth- Opvs Contra Natvram Poland's beloved sons release another quality record. The chorus of "The Deathless Sun" is hair raising and album closer "Versvs Christvs" shines in its demonic majesty.